I recommend reading the short and related post Why Most People Don't Care About Wild-Animal Suffering by Ben Davidow.
The aim of this essay is to list some of the reasons why animal advocates and aspiring effective altruists may be biased against prioritizing wild-animal suffering. These biasing factors are, I believe, likely to significantly distort the views and priorities of most people who hold impartial moral views concerned about the suffering of all non-human animals.
---
Contents
1. Historical momentum and the status quo
2. Emotionally salient footage
7. Thinking we can have no impact
8. Underestimating public receptivity
9. Overlooking likely future trajectories
10. Long-term nebulousness bias
---
1.
Historical momentum and the status quo
The animal rights movement has, historically, been almost exclusively concerned with the protection of non-human animals exploited by humans. Very little attention has been devoted to suffering in nature for natural reasons. And to the extent the issue has been mentioned by philosophers in the past, it has rarely been framed as something that we ought to do something about.
Only in recent decades has the view that wild-animal suffering deserves serious attention in our practical deliberations been defended more explicitly. And the people who have defended this view have, of course, still been a tiny minority among activists concerned about animal suffering, and they have so far had little impact on the focus and activism of the animal movement at large.
This historical background matters greatly, since we humans very much have a social epistemology: we tend to pick up the views of our peers. For example, most people adopt the religion that is most popular in their geographical region, even if it is not the most rational belief system on reflection. And a similar pattern applies to our views in general. It is truly rare for people to think critically and independently.
Thus, if most people concerned about non-human animals — including our own mentors and personal heroes — have focused almost exclusively on the plight of non-human animals exploited by humans, then we are likely to be strongly inclined to do the same, even if this is not the most rational focus on reflection (in terms of how we can have the best impact on the margin).
2. Emotionally salient footage
Closely related to the point above is the fact that footage of suffering "farm animals" constitutes almost all of the disturbing footage we see of animal suffering. Whether on social media or in documentary movies about animal rights, the vast majority of the content encountered by the average animal activist shows cows, pigs, and chickens who are suffering at human hands.
Note how unrepresentative this picture is: a great majority of the animal suffering we observe occurs at human hands, although the vast majority of all suffering beings on the planet are found in nature. It is difficult to see how this can give us anything but a skewed sense of what is actually happening on our planet.
Yet not only will most of us have been exposed to far more suffering occurring at human hands, but we probably also tend to see the victims of such suffering with very different eyes compared to how we see the victims of natural processes. When we, as animal activists, see pigs and chickens suffer at human hands, we look at these beings with sympathy. We feel moral outrage. But when we see a being suffer in nature for natural reasons — for example, a baby elephant getting eaten alive — we are probably more hesitant about activating this same sympathy. Sure, we may lament the suffering and feel bad for the victim. But we do not truly see ourselves in the victim's place. We do not look at the situation with moral eyes that cry "this is unacceptable".
It is difficult to overstate the significance of this point. For while we may like to think of our activism and moral priorities as being animated chiefly by reasoned arguments, the truth is that salient experiences tend to matter just as much, if not more, for our moral motivation. It is one thing to think that wild-animal suffering is important, but it is quite another to feel it. The latter renders action less optional.
If we had only seen more footage of wild-animal suffering, and — most crucially — dared to behold such footage with truly sympathetic eyes, we would probably feel its moral gravity much more clearly, and in turn feel more motivated to address the problem. It seems unlikely that the priorities of the animal movement would be largely the same if more than 99 percent of the horrible footage encountered by animal activists had displayed the suffering of wild animals.
3. Perpetrator bias
Another relevant bias to control for is what I have called the perpetrator bias: we seem to care more about suffering when it is caused by a moral agent who has brought it about by intentional action (Vinding, 2020, 7.7). By extension, we tend to neglect suffering when it is not caused by intentional actions, such as when it occurs in nature for natural reasons. This bias, and its relevance to our appraisals of wild-animal suffering, has been explored in (Tomasik, 2013; Davidow, 2013).
As both Tomasik and Davidow argue, this bias could well be among the main reasons why most people, and indeed most animal advocates, tend to neglect the problem of wild-animal suffering. Our moral psychology is very much set up to track the transgressions of perpetrators, which can leave us relatively unmoved by suffering that involves no perpetrators, even if our reflected view is that all suffering should matter equally. After all, the core programming of our moral cognition does not change instantly just because a few of the modules in our minds have come to endorse a more advanced, impartial view.
4. Omission bias
Some version of the omission bias — our tendency to judge harmful acts of omission more leniently than harmful acts of commission, even when the consequences are the same — may be another reason why people with impartial views give less priority to wild-animal suffering than they ideally should. Our moral psychology is plausibly often motivated to focus on wrongs that we can be perceived to be responsible for, and for which we may be blamed.
Suffering caused by humans is in some sense done by "us", and hence we may instinctively feel that we are more blameworthy for allowing such suffering to occur compared to allowing the suffering of wild animals. This might in turn incline us toward focusing on the former rather than the latter. Yet from an impartial perspective, this is not a sound reason for prioritizing human-caused suffering over "natural" suffering.
5. Scope neglect
Numbers are commonly invoked as one of the main reasons for focusing on "farm animals". For example, there are about a hundred times as many non-human animals used and killed for food as there are companion animals, and hence we should generally spend our limited resources on helping the former rather than the latter. What is less commonly acknowledged, however, is that a similar thing can be said about wild animals, who, even if we only count vertebrates, outnumber vertebrates used and killed for food at least a thousand times (and perhaps more than 100,000 times).
Such numbers are notoriously difficult for us to internalize in our moral outlook. Our minds were simply not built to feel the significance of several orders of magnitude. Consequently, we have to make an arduous effort to really appreciate the force of this consideration.
The following illustration from Animal Charity Evaluators shows the relative proportion of wild vertebrates to domesticated vertebrates: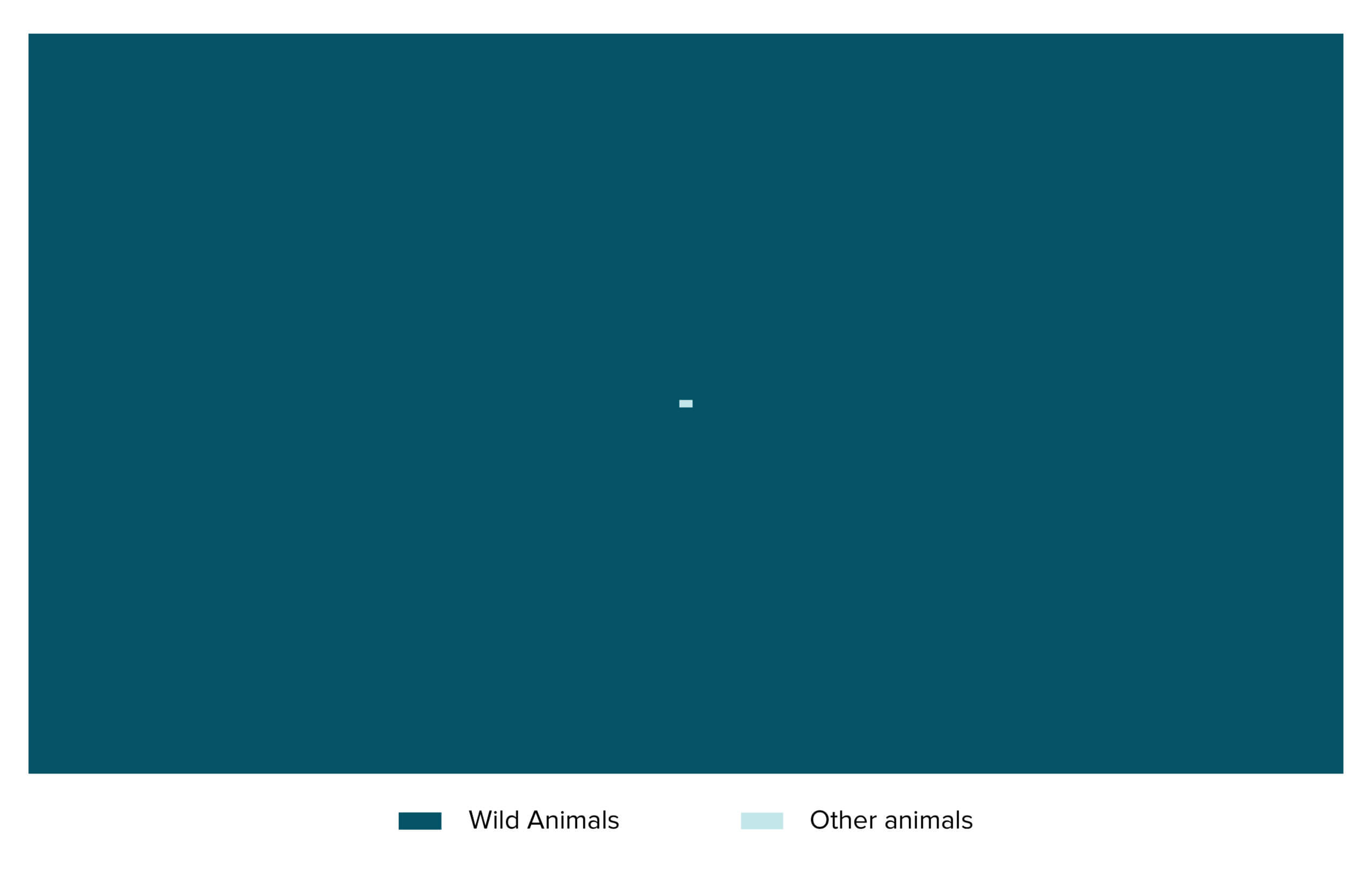 6. Invertebrate neglect
Related to, and amplifying, the scope-neglect consideration is our neglect of invertebrate suffering. Not only are domesticated vertebrates outnumbered by wild vertebrates by at least a thousand times, but wild vertebrates are, in turn, outnumbered by wild invertebrates by at least ten thousand times (and perhaps by more than ten million times).
.

Put differently, more than 99.99 percent of all animals are invertebrates, and virtually all of them live in the wild. Taking the suffering of invertebrates into account thus gives us another strong — and widely ignored — reason in favor of prioritizing wild-animal suffering. And in line with the point about the significance of emotionally salient footage, it may be that we need to watch footage of harmed invertebrates in order for us to fully appreciate the weight of this consideration.
7. Thinking we can have no impact
A common objection against focusing on wild-animal suffering is that the problem is intractable — if we could do anything about it, then we should prioritize it, but there just isn't anything we can do at this point.
This is false in two principal ways. First, we humans already make countless decisions that influence animals in the wild (and we will surely make even more significant such decisions in the future). For example, the environmental policies adopted by our societies already influence large numbers of non-human animals in significant ways, and it would be false to claim that such policies are impossible to influence. After all, environmental groups have already been able to influence such policies to a considerable extent. Sadly, such groups have routinely pushed for policies that are profoundly speciesist and harmful for non-human animals — often with support from animal advocates, which shows how important it is that animal activists do not blindly endorse environmentalist policies, and how important it is that we reflect on the relationship between environmentalist ethics and animal ethics. And, of course, beyond influencing large-scale policy decisions, there are also many interventions we can make on a smaller scale that still help non-human animals in significant ways.
Second, we can help wild animals in indirect ways: by arguing against speciesism and for the importance of taking wild-animal suffering into consideration, as well as by establishing a research field focused on how we can best help wild animals on a large scale. Such indirect work, i.e. work that does not lead to direct interventions in the near term, may be the most important thing we can do at this point, even as our current wildlife policies and direct interventions are already hugely consequential.
So the truth is that there is much we can do at this point to work for a future with fewer harms to wild animals.
8. Underestimating public receptivity
There are reasons to think that animal advocates strongly underestimate public receptivity to the idea that wild-animal suffering matters and is worth reducing (see also what I have written elsewhere concerning the broader public's receptivity to antispeciesist advocacy).
One reason could be that animal advocates themselves tend to find the idea controversial, and they realize that veganism is already quite controversial to most people. Hence, they reason, if they, as animal advocates, find the idea so controversial, and if most people find mere veganism to be highly controversial, then surely the broader public must find concern for wild-animal suffering extremely controversial.
Yet such an expectation is heavily distorted by the idiosyncratic position in which vegans find themselves. The truth is that most people may well view things the opposite way: veganism is controversial to them because they are currently heavily invested — socially and habit-wise — in non-veganism. By contrast, most people are not heavily invested in non-intervention with respect to wild animals, and thus have little incentive to oppose it.
The following is a relevant quote from Oscar Horta that summarizes his experience of giving talks about the issues of speciesism and wild-animal suffering at various high schools (my own software-assisted translation):
Intervention to help animals is easily accepted
There are many antispeciesist activists who are afraid to defend the idea of helping animals in the wild. Even if these activists totally agree with the idea, they believe that most people will reject it completely, and even consider the idea absurd. However, among the people attending the talks there was a very wide acceptance of the idea. Radical cases of intervention were not raised in the talks, but all the examples presented were well accepted. These included cases of injured, sick or trapped animals being rescued; orphan animal shelters; medical assistance to sick or injured animals; vaccination of wild animals; and provision of food for animals at risk of starvation. In sum, there does not seem to be any reason to be afraid of conveying this idea in talks of this type.
Of course, the claim here is not that everybody, or even most people, will readily agree with the idea of helping wild animals — many will surely resist it strongly. But the same holds true of all advocacy on behalf of non-human animals, and the point is that, contrary to our intuitive expectations, public receptivity to helping non-human animals in nature may in many ways be greater than their receptivity to helping "farm animals" (although receptivity toward the latter also appears reasonably high when the issue is framed in terms of institutional change rather than individual consumer change).
9. Overlooking likely future trajectories
As I have noted elsewhere:
Veganism is rising, and there are considerable incentives entirely separate from concern for nonhuman animals to move away from the production of animal "products". In economic terms, it is inefficient to sustain an animal in order to use her flesh and skin rather than to grow meat and other animal-derived products directly, or replace them with plant-based alternatives. Similarly strong incentives exist in the realm of public health, which animal agriculture threatens by increasing the risks of zoonotic diseases, antibiotic resistant bacteria like MRSA, and cardiovascular disease. These incentives, none of which have anything to do with concern for nonhuman animals per se, could well be pushing humanity toward veganism more powerfully than anything else.
So despite the bleakness of the current situation, there are many incentives that appear to push humanity toward the abolition of animal exploitation, and we may even be moving in that direction faster than most of us expect (this is not, of course, a reason to be complacent about the unspeakable moral atrocity of "animal farming", but it is something to take into account in our approach to helping future beings as much as we can).
In contrast, there are no corresponding incentives that lead us to help non-human animals in nature, and thus no strong reasons to think that humanity (including environmentalists, sadly) will take the interests of wild animals sufficiently into account if we do not advocate on their behalf.
Advocacy focused on wild animals is already vastly neglected in the animal movement today, and when we consider what the future is likely to look like, the level of priority animal advocates currently devote to the problem of wild-animal suffering seems even more disproportionate still.
10. Long-term nebulousness bias
This last bias is a bit more exotic and applies mostly to so-called longtermist effective altruists. People who focus on improving the long-term future can risk ending up with a rather nebulous sense of how to act and what to prioritize: there are so many hypothetical cause areas to consider, and it is often difficult to find tractable ways to further a given cause. Moreover, since there tends to be little real-world data that can help us make progress on these issues, longtermists are often forced to rely mostly on speculation — which in turn opens the floodgates for overconfidence in such speculations. In other words, focusing on the long-term future can easily lead us to rely far too strongly on untested abstractions, and to pay insufficient attention to real-world data and existing problems.
In this way, a (naive) longtermist focus may lead us to neglect concrete problems that evidently do have long-term relevance, and which we can take clear steps toward addressing today. We neglect such problems not only because most of our attention is devoted to more speculative things, but also because these concrete problems do not seem to resemble the "ultimate thing" that clearly improves the long-term future far better than other, merely decent focus areas. Unfortunately, such an "ultimate thing" is, I would argue, unlikely to ever be found. (And if one thinks one has found it, there are reasons to be skeptical.)
In effect, a naive longtermist focus can lead us to overlook just how promising work to reduce wild-animal suffering in fact is, and how long a list of compelling reasons one can give in its favor: in terms of scale, it vastly dominates all other sources of currently existing suffering; it is, as argued above, a tractable problem where there are fairly concrete and robust ways to make progress; and the problem is likely to exist and be dominant in scale for a long time — centuries, at least.
More than that, work to reduce wild-animal suffering is also likely to have many good flow-through effects. For example, such work is probably among the most promising actions we can take to prevent the spread of animal suffering to space to space, which is one of the least speculative s-risks (i.e. risks of astronomical future suffering). Indeed, there are already people who actively advocate that humanity should spread nature to space, and concrete proposals for how it could be accomplished already exist.
The risk of spreading wild-animal suffering to space appears greater than the risk of spreading factory farming to space, not least in light of the point made in the previous section concerning the incentives and future technologies that are likely to render factory farming obsolete. One may, of course, object that the risks of astronomical future suffering we reduce by addressing factory farming today do not involve factory farming itself but rather future analogs of it. This is a fair point, and such risks of future analogs to factory farming should indeed be taken seriously. However, by the same token, one can argue that we also address future analogs to wild-animal suffering by working on that problem today, and indeed further argue that this would be a superior focus.
After all, work to address wild-animal suffering appears more wide-ranging and inclusive than does work to address factory farming — for example, it is difficult to imagine a future where we address wild-animal suffering (and analog problems) yet fail to address factory farming (and analog problems). Future scenarios where we address the latter yet fail to address the former seem more plausible, since addressing wild-animal suffering takes a greater level of moral sophistication: it not only requires that we avoid directly harming other beings, but also that we actively help them.
Which brings us to another positive secondary effect of focusing on wild-animal suffering: such a focus embodies and reinforces the virtue of factoring in numbers in our moral deliberations, as well as the virtue of extending our circle of moral concern — and responsibility — to even include beings who suffer for reasons we ourselves had no hand in. It is a focus that reflects a truly universal view of our moral obligations, and it does this to a significantly greater extent than a mere opposition to factory farming or (anthropogenic) animal exploitation in general.
To be clear, I am not claiming that wild-animal suffering is necessarily the best thing to focus on for people trying to reduce suffering in the long-term future (I myself happen to think suffering-focused research of a more general nature is somewhat better). But I do claim that it is a decent candidate, and a better candidate than one is likely to realize when caught up in speculative far-mode sequence thinking.
Either/Or: A false choice
To say that most of us likely have strong biases against prioritizing wild-animal suffering, and that we should give it much greater priority, is not to say that we cannot still support efforts to abolish animal exploitation, and indeed do effective work toward this end.
As I have argued elsewhere, one of the many advantages of antispeciesist advocacy is that it encompasses all non-human animals and all the suffering they endure — anthropogenic as well as naturogenic.
---
Addendum: An important bias I left out above is the "proportion bias" (Vinding, 2020, 7.6), also known as "proportion dominance": our tendency to care more about helping 10 out of 10 individuals than we care about helping 10 out of 100, even though the impact is the same. This bias is especially relevant in the context of wild-animal suffering given the enormous scale at which it continually occurs as a backdrop to any altruistic effort we may pursue.
In terms of biases in the other direction, Jacy Reese has suggested some biases that may favor a focus on wild-animal suffering (though note that he largely agrees with me: "there are no 'similarly strong' biases [in the other direction] in the sense that, among self-identified animal advocates, the biases away from wild animal suffering are much stronger than biases toward"). I have shared my views on Jacy's points on Twitter.